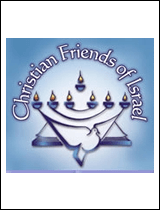 Our view of this ministry
This is a ministry which supports Israel and speaks up for the Jewish people. It also provides the church with teaching and information from many sources. They distribute teaching from many different teachers who are all knowledgeable about and supportive of Israel.
Visit Christian Friends of Israel's website
What they say about themselves
We are a non-denominational Christian organisation, seeking to lift up the name of Jesus in all we do to bless His Jewish brethren and share the message of His love both for Israel and the Church.
A true friend is faithful in all circumstances. As Jews in the past have suffered great persecution in the name of Christ, we seek to show them real friendship and love in His name.
Israel means the Jewish people, both inside the nation and in the Diaspora throughout the world. It also means the modern nation of Israel, which includes both Jews and Arabs, all precious to God.
So, we are Christians who love Israel and its peoples and believe that God has a special place for them in His Kingdom purposes before the return of Messiah.
Christian Friends of Israel began with a meeting of a few Christian leaders in Jerusalem in December 1985, from the UK, USA, France and Israel, who were aware of an urgent need to set up a framework in which they could serve the Lord and bless Israel as true friends.
Out of a number of names proposed, that chosen – "Christian Friends of Israel" – expressed exactly how we believed Christians should relate to the Jewish people, both in view of the Church's past history and also all that God was leading Israel through.
With the particular help of Lance Lambert and David Bivin, the principles and aims of CFI were worked through word by word, and these Foundation Principles stand unchanged today.