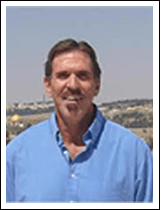 Our view of this ministry
David Dolan is an American who lives in Israel and he writes regular bulletins by email about what is happening in Israel in terms of politics and other military and economic issues and he links it to Bible prophecy so that you can see what is going on as it happens. You ought to contact him by email and ask to be put on his email bulletin list. Reading his updates will keep you well informed. His books and tapes are sound too.
What they say about themselves
David Dolan is a Jerusalem-based author and journalist. Born and raised in the United States, he has lived and worked in Israel since 1980.

After studying at a Bible College in his native Pacific Northwest, Dolan graduated from a broadcasting journalism school in 1976. He subsequently worked for the Moody radio network's Spokane affiliate. His Mideast media career began in 1982 when he began serving as news director at the Voice of Hope radio station in war-torn southern Lebanon. From April 1984, he reported from Jerusalem for the Washington DC-based IMS news network, and later for CBN's Middle East Television (METV) in Jerusalem.
Dolan became a regular reporter for the CBS radio network in early 1988, soon after the first Palestinian uprising broke out. He also covered the massive immigration of Soviet Jews to Israel, the 1991 Gulf War, and many other stories during the 1990's, along with the new Palestinian attrition war that began in September 2000. He is currently reporting once again for the Moody radio network, and via videophone for the American LeSea television network, which now operates METV.
A frequent guest on many other radio and television programs in the US and elsewhere, Dolan also writes a regular opinion column for the popular World Net Daily website. He began authoring the monthly Israel News Digest for the group Christian Friends of Israel in 1986. He has also written hundreds of articles for many Christian and secular publications, including for the Jerusalem Post, Moody Monthly, Charisma, and Prophecy Today (UK).
David Dolan is also a well-known international speaker. He has appeared at many Christian and secular universities, international conferences, Jewish synagogues and forums, and before many churches and civic groups. He has toured over 20 times in the United States, and has frequently visited Canada, Great Britain, Germany, Holland, Singapore and Australia. He has also spoken in Ireland, Norway, Switzerland, Hungary, Austria, New Zealand and Hong Kong. He also addresses visiting tour groups in Israel and foreign students studying in Jerusalem. Along with US Senator John Ashcroft and two other recipients, Dolan was awarded an honorary Doctor of Letters degree from Louisiana Baptist University in 1998.
Dolan's 1991 book, Holy war for the promised land, (Thomas Nelson) was an instant international success. It was quickly translated into eight other languages. The latest updated version-the forth edition-was released by Broadman & Holman in 2003. His well-received end-time novel, also translated into other languages, appeared in 1997 under the title The end of days.
He also authored a combination current events-biblical prophecy book titled Israel in crisis:what lies ahead? Over 10,000 copies were sold in the weeks after it was released in November 2000. An updated edition, published in late 2001 by Baker/Revell, is currently in its forth printing. As with his previous books, Israel in crisis has been lauded by many readers for its valuable political and biblical insights and information.
All of Dolan's books are available at a special discount price on this Web site. Click Here for more details.